DARJA LUKJANENKO / Ukrainian culture in wartime: accelerated decolonization.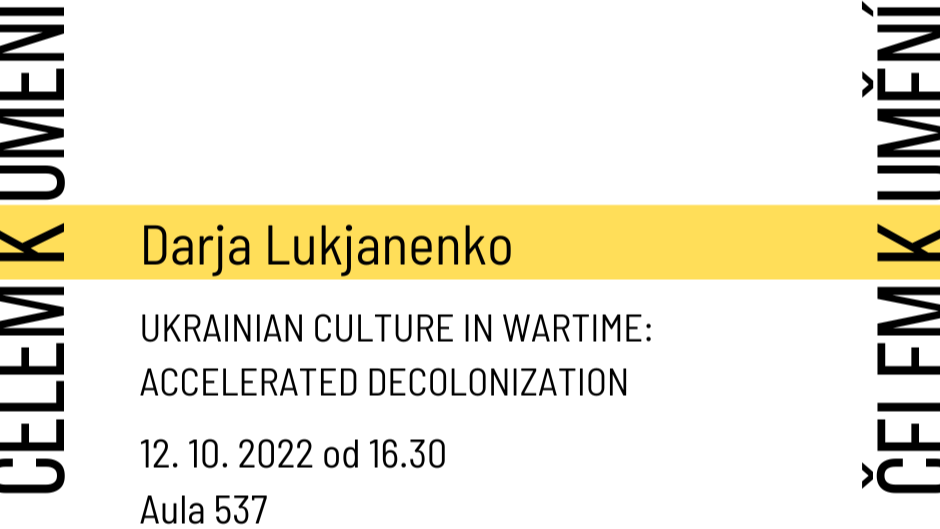 12. 10. 2022 from 16.30
auditorium 537
Ukrainian culture in wartime: accelerated decolonization.
The day before the invasion the president of Russia made a speech insisting Ukraine should not exist, just as Ukrainian identity. However, it's not the first case Ukrainian culture got attacked. Constant confrontation with Imperialism pressure, eternal struggle for independence, and a desperate attempts to preserve the heritage made Ukrainian culture a tool of resistance, a way of protest, and a collective manifest of freedom. Apparently, one of the best things we can do now to contribute against Imperialism and against Russian colonial ambition is to support Ukrainian identity: with our word and attention.
Darja Lukjanenko works interdisciplinary, across performance, text, and gardening. She studied journalism in Ukraine and is currently studying at the UMPRUM in Prague. Her creative process is a based on the empathy stimulation practices, non-human position study (non-human and the ways it is intertwined with and incorporated in the human and vice versa) and discovering domination-free forms of relationships. Since 2020 she has confronted Russian rockets. Since 2022 she has mapping Ukrainian culture decolonization processes.